The CCCD program, for an important part, is funded through private sponsorship. The sponsorship model has been operational since Help a Child was founded in 1968. The main characteristic of the child sponsorship program is a private donor sponsoring a child or family elsewhere in the world. Help a Child uses the ambassador model: a child of family is linked to one private sponsor through correspondence and picture, while the contribution of the sponsor is for the benefit of the whole project.
This section contains all documentation needed to properly implement the Community Ambassador Model.  
In case you have any questions, feel free to contact us!
The CAM support team
CAM Manual
This is the manual for all matters related to the Community Ambassador Model (CAM). The Child Centered Community Development Program of Help a Child, for an important part, is funded through this model. This manual describes all requirements for preparing, implementing and phasing out CAM.
CAM Manual
CAM Manual Annexes
templates, instruction sheets, and formats
Find below all templates, mentioned in the CAM Manual. For a quick overview of all CAM communications requirements, see the communcations overview.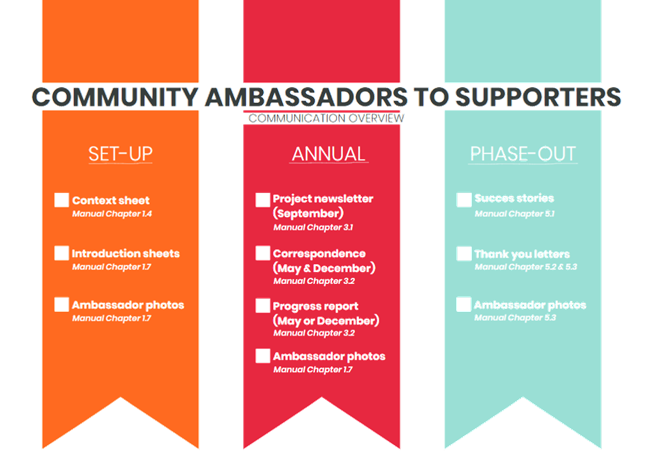 Tip: download the communcations overview and put a printed version in your office to have all requirements at hand.
Downloads for CAM set-up:
Context information sheet – input example
Context information sheet – input example
Parental Consent Form
Parental Consent Form
Introduction Sheets – guidelines
Introduction Sheets – guidelines
Instruction Child Photo
Instruction Child Photo

Downloads for CAM annual requirements:
Child monitoring form
Child monitoring form
Child progress report – Format
Child progress report – Format
Family progress report – format
Family progress report – format
Project Newsletter – Input example
Project Newsletter – Input example

Downloads for CAM phase-out:
Leaving Form – Example
Leaving Form – Example
Success Story – Input example
Success Story – Input example